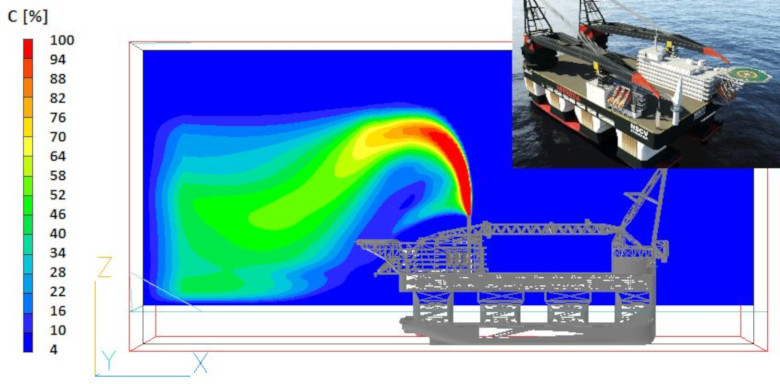 Photo
Peutz / NSCV: Heerema Marine Contractors
HMC is currently developing a new generation semi-submersible crane vessel: Sleipnir. The Sleipnir is designed for worldwide offshore heavy lifting. It will be equipped with two cranes of 10,000 metric tonnes lifting capacity each and a reinforced deck area of 220 meters in length and 102 meters in width, which will make it the largest crane vessel in the world.
The Sleipnir is self-propelled with a minimum service speed of 10 knots, with power generated by means of dual fuel engines – MGO & LNG. Station-keeping is by means of dynamic positioning (DP3) or mooring system.
Peutz has conducted a CFD  assessment of the effects of a LNG release for over pressure blow off and bunker spill scenario's.
In the bunker spill simulation the temperature and concentration levels in the bunker tanks is assessed. The lowest temperature of the hull below the bunker tanks is assessed to guarantee  structural integrity at extreme temperatures. The spill recovery tank is optimised and thermal insulation of the hull is applied in addition to a water mist system.
For the over pressure blow-off an exhaust is situated above the accommodation. The location, height and blow-off protocol have been optimised to prevent dangerous build op of LNG concentration levels.
Main particulars
Vessel type: Semi-submersible Crane Vessel
Length over all: 220 m
Beam over all: 102 m
Lifting capacity: 2 x 10 000 mTons
Designer: GVA
Client: Heerema Marine Contractors