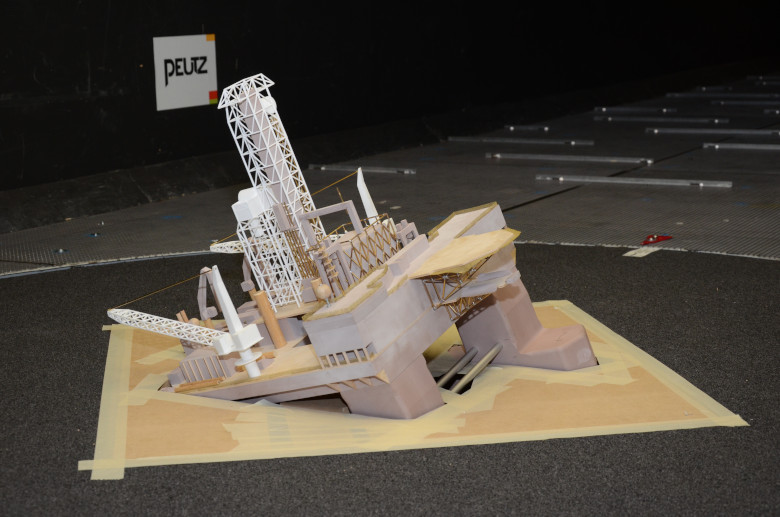 The Frigstad D90 is a proprietary semi-submersible drilling unit design which has been purposely developed for ultra deepwater exploration & development.
Wind loads for stability and DP
Peutz has conducted wind tunnel tests to determine the wind loads and current loads for stability assessment and as input for the dynamic positioning system. The tests have been conducted at the atmospheric boundary layer wind tunnel facility of Peutz located in Molenhoek, The Netherlands.
The wind loads have been measured for all wind directions at transit, survival and operational draft and for a series of heeling angles. The wind load measurements have been conducted in an atmospheric boundary layer according to the ISO 19901-1 specification. The current loads have been measured for 3 draft conditions in a uniform flow set-up.
Helicopter deck certification
In addition a full test matrix of helicopter deck turbulence measurements has been conducted according to the CAP 437 requirements. The measurements have been conducted in the  ISO 19901-1 atmospheric boundary layer. A helicopter deck turbulence assessment has been written based on the measurements, including tables and graphs for the helicopter deck manual.
The wind tunnel test campaign has been conducted by order of and in close cooperation with Marin.
Main particulars
Vessel type: Semi submersible drilling unit
Length over all: 122.5 m
Beam: 92.7 m
Draft: 12.1-24 m
Designer: Frigstad Engineering / Frigstad Offshore
Client: Marin