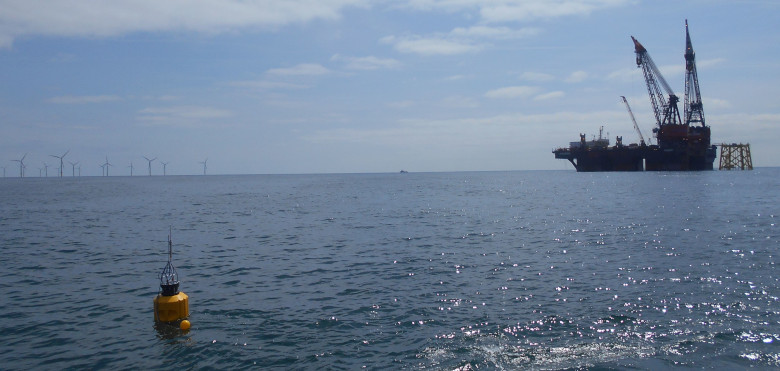 Photo
Peutz - Real time monitoring system deployed during the installation of the substation for the wind turbine park Borkum Riffgrund 2 in the German North Sea
Peutz has further developed its autonomous under water noise measurement system to a real time under water noise monitoring system for piling noise which is designed to be fully BSH compliant. Real time under water piling noise monitoring has successfully been conducted for Heerema Marine Contractors during the installation of the offshore sub station at the Borkum Riffgrund 2 wind farm for Dong Energy (Ørsted). The measurement campaign has been conducted on time and to satisfaction of Heerema Marine Contractors.
The measurement system is deployed at 750 m from the piling location as required by the German "Bundesamt für Seeschifffahrt und Hydrographie" (BSH). The measured piling noise data are transmitted by a surface buoy and monitored from the installation vessel during the pile driving. The data are real time processed to obtain the relevant parameters SEL5% and Lpeak. The development of these parameters is monitored during the pile driving and used to adapt the hammer energy to avoid exceeding the noise limits, when needed. Directly after the last stroke of a pile a full field report containing the relevant parameters is available for reporting to the installation contractor and BSH.
The development of the real time monitoring system has been supported by the Province of Zuid‑Holland.
Cliente
Heerema Marine Contractors